Greetings,



I am so glad you've joined me! Here is Chapter 1 of "Hurt No More! A Journey of Healing from Abuse." Don't forget to let me know what you think so far. :).
Chapter 1
Putting on a Façade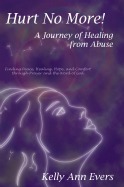 No one really knew me. I was extremely skillful at putting on a façade.

I lived a prestigious life filled with wealth and travel, and I was quite aware that many people were envious of me. If they only knew.


How We Deceive Others with our Perfect Lives
Outwardly, I appeared to be a woman who had the perfect husband, the perfect children, the perfect home, but behind the walls of our house, my children and I inhabited a world filled with fear and violence.

After the birth of my daughter, my husband's drinking had escalated, and so did his violence toward me.

For years I felt all alone, believing it was my lot in life for my husband to physically, emotionally, and spiritually abuse me.

My marriage had become my prison. Unknown to me, there was even a tracking device on my car so my husband constantly knew where I went. He was never going to let me leave.


Running Away - Yet He Always Found Us
I had run away from him numerous times, taking our children with me, but he always found us, and forced me to return to him.

I had lost all hope, my self-worth had been beaten out of me, and I was completely numb inside.

I often would dream of the day when I successfully escaped from my husband.

I knew, or at least I imagined it would be true, that once I left him, my life would be perfect, happy, and peaceful.


He Viciously Attacks Me
On April 7, 2001 my husband beat me so severely that I suffered an acute head injury.

I was supposed to take his car to the car wash that day, one of my weekly chores, so we had exchanged keys earlier.

After assaulting me, he left the house in my car. He had just viciously attacked me, I was clearly injured, but he still expected me to get his car washed later that day!

My young daughter and I went on automatic pilot, refusing to give into the fear and terror we felt. We knew we didn't have much time to get out of the house before he returned.

As I threw our belongings into suitcases, I realized I had no idea where we were going, what our future held, or if he would find us. Nothing would ever be the same.


Poverty? - The New Life After Leaving
We might be forced to live well-below the poverty line on a peanut butter and crackers diet, without any of the luxuries we were used to having. But my daughter and I didn't care.

We wanted freedom from him, freedom from fear and terror, freedom from abuse.

My son was away at private school so I knew he would be safe. I loaded up my husband's car and told my daughter to make one last run through the house to see if she wanted anything else.

I held my dog for what I thought would be the last time, and as my tears soaked her soft, white fur, I whispered, "I love you."

My daughter came down the stairs with her arms full of stuffed animals and a book.

We stood for a second, glancing quickly around our house, at the life we were leaving behind.

I said, "Let's go," and led her to the car.


Paralyzed with Fear
I found a secluded area outside a library that was two cities from our home, parked the car, and I stopped to catch my breath. My daughter and I sat quietly, staring out the windows.

I felt paralyzed. With shaking hands and a quivering voice, I called the battered women's shelter.

A soft, gentle voice, calm and reassuring, let me know that everything would be okay. She set a time and place to meet.

When she saw me she noticed that I was suffering from a serious head injury and insisted that I needed to go to the emergency room. I ended up being hospitalized for two weeks.

Once I was out of the hospital, my daughter and I entered the battered women's shelter and were given a room with bunk beds.

My daughter took the top bunk, I took the bottom.


Years of Tears Poured Out of Me
The moment I put my head on the pillow I began to cry, and for the next three days the tears that I had held inside for years came pouring out of me.

In my mind, I had pictured battered women's shelters as depressing, dark, dreary places where hundreds of profoundly sad women and children stood side by side, weeping uncontrollably, packed together like farm animals.

They had no hope, no future. We entered a completely different reality.

The shelter was a beautiful home with everything women and their children would want or need. The women I met there were happy and optimistic.


Life at the Battered Women's Shelter
The shelter didn't just provide food and housing. It gave women hope for the future and assisted us with our legal documents and our court hearings. It helped with our clothing, makeup, medical needs, therapy, jobs, and so much more.

As we settled into our new home, my daughter and I began group, individual, and family therapy.

The therapist was sharp, creative, and knew domestic violence well. Between daily therapy, making plans for our future, and preparing for court, two weeks passed quickly.

Our court date arrived, and the shelter's advocate assured me that everything would work out fine. She was right.

My husband was ordered to provide financial support for my daughter and me, a restraining order was granted, and I also obtained a Kick Out Order.


WE'RE GOING HOME!
My husband had 15 minutes to remove his belongings. My daughter and I were going to be able to return to our home!

After packing our belongings and cleaning the room for the next guest, we left the shelter, and headed home.

I was terrified that my husband might be hiding in the house so I had the police meet us there.

We were relieved to be reunited with our beloved dog, and to be back in our home.

Looking back on that time now, I realize that if it hadn't been car wash day when I received my last beating from my husband, I would have escaped in my own car, and the tracking device that my husband had secretly installed would have allowed him to find my daughter and me quickly.


God was Cheering Me On!
I like to think that God was cheering me on that spring day in 2001 as I successfully made my getaway from my husband in my husband's own vehicle!



For several years I continued to live in constant fear. Despite the restraining order, my husband had shown up a few times at the house, and even broken into the garage on one occasion.

Because he wasn't happy with his supervised telephone-only visitation with our daughter that the court had ordered, he would make threatening phone calls to me. Even with a new alarm system and top-of-the-line door locks, I still felt unsafe.


The Loneliness and Loss
I also felt very alone. I had lost most of my friends because they feared my husband, and a few months after my arrival home, I learned that my mother had been diagnosed with cancer.

Within six months she lost her battle.

During this time my grandmother entered hospice, a friend committed suicide, and two more friends died. I was subjected to a vicious divorce, my husband took all our community assets out of the country, and left my children and me with no savings.

While I was trying to care for my two children all alone, I was suffering from brain trauma, Post Traumatic Stress Syndrome, and amnesia—the result of the many brutal beatings my husband had given me. I became deeply depressed.


Escaped the Abuser... for This?
Unfortunately, though I had finally escaped from my abuser, the years of violence and emotional abuse had left me feeling defeated and hopeless. I had no fight left in me.

I saw myself as worthless and useless. I would berate myself continually for any faults I believed I had, or any mistakes I felt I had made.

I would belittle myself for what I perceived to be my weaknesses and my lack of abilities. I had become my own abuser.


The Ugly Reality of My New Life
I wasn't prepared for the ugly reality—getting away from my husband hadn't automatically fixed the wounded woman I had become emotionally and spiritually.

I knew I had to do something to heal my pain, repair my self-image, and stop the destructive words that I constantly said to myself—and clearly believed. I was determined to alter the course of my life.

I had continued to see the therapist I had met through the shelter. Through her counseling I began to understand abuse, and she helped me break away from the victim mentality.

It wasn't until I began counseling with Pastors Reggie, Kim, and Myrene that the deep emotional wounds finally began to heal.

I knew God wanted me happy and whole, and He led me on a journey where I discovered in the Bible a wealth of healing Scriptures that spoke to my pain.

I learned that if I wanted to be healed, truly set free from my suffering, then I needed to change my thoughts.


God's Word Covers Every Hurt, Rejection and Hopeless Situation
I found that in God's Word there is a Scripture that covers every area of hurt, rejection, abandonment, hopelessness, helplessness, and so much more—I read them out loud daily, and as a result, these Scriptures came alive in me. Immediately, I felt peace.

I found Scriptures about healing, health, hope, and wholeness. I found Scriptures on who I was in Christ, what I can do through Him.

I recited Scriptures of His love for me and how I can receive His love.

Every day I faithfully devoted myself to prayer. I soon began to see my painful emotional scars begin to fade, and I came to know God in a more profound way.

I found out how deep and wide His love is for me, that He has great compassion for me, and that I am capable of accomplishing so much more than I thought possible.

Through faith, I learned that the Word of God heals every hurt, abuse, and offense. I discovered He wants to heal us everywhere we hurt.

As I walked daily in my journey toward hurting no more, I discovered that God is my hope, my healer, and my strength. He was the one who saved me from the abuse.

God has sustained me, and carried me through some of the worst times. There were occasions when I felt God had abandoned me.

I would cry out and it would feel like I was all alone, but those moments of doubt would pass, and I would realize that He was there.

He gave me the fortitude I needed to make it through the day. He gave me the peace I needed when I was terrified. He comforted me when I was worried and anxious. He never left my side.


God Shows me What Love Is
He has shown me what love is. He has given me precious friends and family members who love me unconditionally. He has restored my health and removed past sorrow.

He has picked up all the shattered pieces, the hopelessness, the worthlessness, and has renewed me and made me whole.

He has given me a beautiful life. Today I can say, "I love my life." But most of all, I have a God who loves me and I love Him, and I am fully confident that I will hurt no more.






Moving on... How to Heal from the Hurt
Chapter 2 of the Book Hurt No More!
Thank you for reading Chapter 1 of Hurt No More! A Journey of Healing from Abuse (Prayers that Heal).

Next week I will be sending you Chapter 2...

In Chapter 2: Healing from the Hurt you will discover my disappointment when I learned that:

Like so many women who live in abusive relationships, I was certain that all I had to do was free myself from my abuser, and like magic, the happy life that I had been dreaming about for years would suddenly appear.

I soon learned that this was not reality.Scripture tells us that God wants us living life to the fullest daily, with overflowing joy and peace. He doesn't want us living with pain, illness, self-hatred, sadness, and hopelessness.

He is the Great Physician and He will heal us if we reach out to Him, focus on His strength, and commit to praying His Word daily.



If you would like to order Hurt No More! now instead of waiting, please click on link and it will bring you to Smashwords. Or you can order right off my site with PayPal or Google Cart.