I'm Free, I'm Happy and I have HOPE!
by Cynthia
(Utah)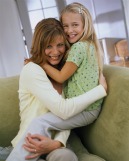 Domestic Violence Healing | Healed from Abuse
Thank you, thank you, thank you. I am finally free from all that pain. I never thought I'd get away from him. But finally with your help Kelly, you've given me the courage to care for me and my children. You always believed in me, never gave up, and showed me that I am much stronger than I thought.
Life is so beautiful now. I can relax, do what I want to do and enjoy my children. Before, life was terrifying, we couldn't do anything. We walked on egg shells. I was so terrified he would hurt the children and me I tried to do everything right. Now I realize it was impossible to comply to his harsh demands. He was an abuser, he is an abuser, and he won't change by me trying to make sure everything is perfect in the house.
Kelly, you are my hero! Thank you again for taking me by the hand and helping me through that difficult time. Thank you for caring enough about me and my kids that you would invest in me.
Freedom from abuse. If anyone is reading this, please listen to me, you can get out of your abusive situation. It may be hard, but it's hard now. It's easier than you think. Read this website www.domestic-violence-help.org, get the help you need and care for yourself and your children, you will be happy you did. Life is wonderful outside of abuse.
Cynthia
Copyright (c) 2010 The Trinity Assignments, All Rights Reserved.