Encouraging Bible Verses
Discover the Power of God's Word
Welcome to our Encouraging Bible Verses page! If you've felt defeated, overwhelmed, discouraged, or disappointed. If you've wanted to give up and situations in your life are weighing you down. We have great news.

Today is your day to discover true joy and happiness!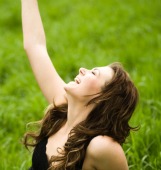 It is your day to find lasting strength, peace
and healing in your mind, will and emotions.
By reading, meditating, and pondering our encouraging Bible verses you are going to experience victory over defeating thoughts, discouragement, and depression.
Be Victorious with God's Word
Did you know that the words we speak give us victory or defeat, cause us to rise up or be crushed, produce life or produce loss? The power of our words significantly alters the course of our lives, whether it is for good or for bad. Proverbs 18:21 (NASB) says, Death and life are in the power of the tongue, and those who love it will eat its fruit.
Below you will find a wealth of encouraging words, Scriptures, and articles that will strengthen, empower, inspire, and lift you up with our encouraging Bible verses!
Bible Verses for Encouragement
Discover the power, strength, hope and joy in God's Word with Bible Verses for Encouragement. Now and then we all feel down, depressed, and discouraged, but with these 102 encouraging Bible verses –- it's a guarantee to lift you up in no time!
Scriptures on Healing
Do you want to experience freedom from the ill effects of abuse and see bondages broken from your past? Experience healing, hope and happiness with our Scriptures on Healing. As you pray, meditate, and declare the Scriptures you will begin to see healing in your mind, body and soul. You will begin to experience joy and peace. You will have a knowing that God's Word is healing you! It's an amazing experience. Come see what God's Word can do for you...
Daily Words of Encouragement
We know that the Word of God heals and we've see repeatedly how lives have changed from the Word of God. We get letters from women almost daily how God has healed them just by reading our articles below. So we know your healing is just an article away!
Experiencing the Love of God
Experiencing the Love of God is for everyone. God longs for you to know Him and for you to experience His Love. Over the years I was so desperate to experience God's love. I longed to know what it was like to to be loved by God. I wanted to be experience the love of for myself -- the way I heard others talked about His love.
I didn't want head knowledge, I wanted it deep in my heart, so that no matter what happened in my life, I would never again question His love for me...

God is Madly in Love with Me
It is my prayer that you will say, "God is madly in love with me", and truly believe it. His love is something we could never truly understand.
His love is unconditional, there is nothing that we can do (or not do) that would cause Him to stop loving us. He is so deeply and madly in love with you that nothing can separate you from that love...


Wondering About God?
Are you wondering about God? Do you know that Jesus loves you? Did you know that Jesus died for you? Have you ever wondered if Heaven is real? Have you thought about what will happen when you die?
Tell Them I Love Them
His Love Heals began when Jesus said to me, "Tell them I love them!"
As victims of domestic violence we have a hard time accepting love from others. And many of us have a hard time receiving love from God and His Son, Jesus Christ. I certainly did. God knew I did, and He knows many of you reading this also struggle over receiving His love.
---
Return to Domestic Violence Help from Encouraging Bible Verses
(This Page to Home Page)

Return to Daily Words of Encouragement from This Page
(This Page to Daily Words of Encouragement)


---