The Abused Wife
The Secret Lives of Abused Wives
About: The Abused Wife - The Secret Lives of Abused Wives


I, Mary, take you, Jon, for my lawful wedded husband to have and to hold, from this day forward, for better, for worse, for richer, for poorer, in sickness and in health, until death do us part.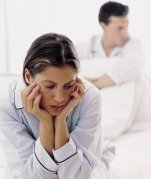 For Mary who took these vows for better or worse… until death do us part never thought she'd be agreeing that abuse was involved. She never thought she'd be an abused wife. Mary met Jon in their first year of college. Mary was a Freshman and Jon was a Junior and a youth pastor at a wonderful church two blocks from their house.
It was love at first sight, and Jon asked Mary to marry him one month after they started dating. Mary was flattered. She didn't date much in high school because of her alcoholic father's rules of dating.
Her father was an angry violent drunk so she vowed she'd never marry an alcoholic.
When she met Jon, he didn't drink so she thought she would be okay. So to be loved and be asked to get married was a delight to her.
They decided to elope and not let anyone know for a year. For the first year Jon complained about how Mary kept the house, she tried her best but with full-time school and full-time work she was overwhelmed and didn't have the time and energy to do anything more.

When she would ask for help from Jon to clean, Jon would go into a tirade. Eventually she just stopped asking him for help and did all the household chores by herself.


Six months into the marriage Jon began telling Mary that if she couldn't keep the house clean and prepare a nice dinner she would have to quit her job or drop out of school or even both. Three months later, Jon told Mary she had to drop out of college because she couldn't take care of him the way she was supposed to, and if she couldn't handle work and the house and dinner she would have to quit her job too.


Mary didn't know what to do, school was her life, and it's all she ever dreamed of doing. Now, at the end of her freshman year, just before finals he made her drop out.

She begged him to at least let her take the finals so the school year wasn't a total waste. He refused, and even threatened her that he will bring her to her father's house and tell him what she doing wrong.


Three weeks later Mary received a call from the Senior Pastor of the church, they wanted to honor Jon for all the work that he is doing. The pastor gushed over how much Jon did and what a good man he is and told Mary that she is so blessed to have such an amazing man. If they only knew she was an abused wife.


As months and years passed Jon didn't allow Mary to have friends – he said they kept her away from caring for their marriage.


Once an old friend from college called her, Mary invited her over and they talked. Jon walked in and welcomed Mary's friend with open arms, but after she left he beat Mary.

Curled up in a ball crying holding her broken arm and wiping up the blood that was gushing from her arm and face. Jon told her to shut up and stop crying, he said she did it to herself and if she didn't go behind his back this would have never happened. She was at fault for the abuse. She had to apologize to him.


This became the norm, he'd beat her and she'd have to apologize for making him mad. Jon began to use that the first beating as the day she ruined their marriage. She would have to stand before God who will damn her for doing this. She not only lived in fear of her husband but of God too.


Mary's story is not uncommon, actually quite the contrary. An abused wife are slowly being beaten down so low that they live in total fear of their husbands. Abusive men isolate their wives and make them put on a cheery exterior when they are out in public, but behind the four walls of their home, violence and cruelty is happening.


If you or someone you know is an abused wife, please let us help. There are plenty of resources on this website to help.
More on Abused Wives


Ready to Give up?


Stopping Controlling Behaviors


Living with an Abuser


The Abusive Words Men Say and How They Hurt Us


The Lies an Abusive Personality/Person Tells You


The Truth about Abusive Men


Abused Women in Public


Return to Home Page from Abused Wife